Assisted Living Hattiesburg MS
CALL TODAY 601-688-0233 | 769-926-2596
ST Oaks Care Center provides home health care services and assisted living facility near you in Hattiesburg MS is trained in senior care on the quality of life. Programs are customized to encompass the core ideas of family. Dedicated Team. Personalized Care. Services: Engaging Activities, Attentive Care, Restaurant-Style Dining.
Did you know that Hattiesburg, Mississippi, is called the "Hub City" of the South ? Hattiesburg only a 90 minute drive from the sand and warm sunny beautiful beaches on the Gulf Coast.
CALL TODAY – 601-688-0233 | 769-926-2596
ASSISTED LIVING HOME IN HATTIESBURG MS
St Oaks Care Center offers home health care services to senior citizens in Hattiesburg. We are also known for our senior living Assisted Living Home community near Hattiesburg, MS. designed to serve the needs of folks like you that want different levels of home health care assistance throughout the aging process. Customized recreational and physical and group activities along with healthy and delicious meal programs allow for as much social interaction and support as each person needs. We provide support based on the different needs of each resident. At St Oaks Care Center, this individualized Hattiesburg senior care program allows each resident to enjoy a feeling of independence similar to living at home without any of the worries associated with managing a home independently.
On-call 24-hour personal senior care
Healthy home-cooked, nutritionally balanced meals
Helpful Assistance with daily living activities:
Eating, Ambulation, Toileting, and Bathing Dressing, Grooming,
One on one individual care management programs
Enriching senior citizen group activities programs
Weekly Religious services
Laundry and housekeeping services
Medical Transportation to physician visits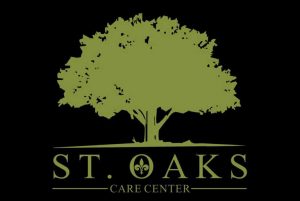 Would You Like To Learn More ? We would love to show you around and have you meet our St Oaks caring support team. Please contact us for an appointment or more information.
Additional Senior Care Services, if you require them:
Onsite Podiatrist and Audiologist
Onsite Speech Therapists Physical, and Occupation
24/7 personal assistants onsite
Physical Therapy
Massage Therapist once per month
Transportation to appointments
Short-term stay option available
Health Assessments
Educational Seminars
Fitness Classes
Exercise Programs
THE BEST IN ASSISTED LIVING NEAR YOU
St Oaks Care Center – The Best in care for You.
Being healthy and happy and staying active, as well as building nurturing lifelong friendships, and caring for your health is living your best life. The St Oaks Care Center team is Hattiesburg is about knowing that a compassionate, caring, around-the-clock staff senior caretaker is fully committed to serving personal demands. Best of all, local senior residents enjoy onsite community activities every week and go to outings to local events, shopping, entertainment, and more.
Zip Codes we serve
Assisted living 39401 Assisted living 39402 Assisted living 39403 Assisted living 39404 Assisted living 39406 Home health care 39401 Home health care 39402 Home health care 39403 Home health care 39404 Home health care 39406.
Why Choose St. Oaks Home Care ?
Our growing staff of trained caregivers build a relationship with your loved one. Because we treat your family member the way we would treat our own, you can be assured of gentle kindness as we provide the care your loved one needs. Our staff includes Certified Nursing Assistants (CNAs) with Cardiopulmonary
Resuscitation (CPR) certifications to help provide the safest environment for your loved one. When one of our caregivers visits your home, you can be assured they have the skills necessary to provide the best care.
St. Oaks can also provide transportation for medical appointments and more, in our twelve-passenger van. In addition to basic care, our staff engages in activities with our clients. We want to make their lives better at home, so we plan activities for their mobility and stamina level. This might include games, social activities as tolerated, going to the movies or shopping, as the patient desires. Give your loved one the gift of home, with home care from the experts at St. Oaks Care Center. You'll provide benefits far beyond the care they receive. Their dignity and independence will be strengthened. Give yourself the gift of time to catch up with other duties. Your needs can't be ignored when you're a caregiver. St. Oaks can help you balance your desire to help with the needs of your schedule.
7 Benefits of Assisted Living in Hattiesburg
Hattiesburg Assisted living communities are safe. …
Hattiesburg Assisted living schedules activities. …
Hattiesburg Assisted living communities create connections. …
Hattiesburg Assisted living provides the full-time care many seniors need. …
Chores, home maintenance, and meals by someone else. …
Hattiesburg Seniors have many assisted living options.
In short, the benefits of Hattiesburg assisted living include:
Assistance with daily living activities like bathing, dressing, and eating.
Adapts to changing needs with no need to maintain a house.
Giving you Much more privacy and a home-like setting.
A Better Opportunity to make friends with group activities.
Saving money and Lower cost than a nursing home.
Allow us to walk you through our carefree living and home-like setting. | CALL TODAY
601-688-0233 | 769-926-2596 | 83 White Chapel Road, Carriere, Mississippi 39426.
https://www.facebook.com/stoakscarecenter
https://ww.linkedin.com/stoakscarecenter
stoakscarecenter@gmail.com